This page is the rightful property of Advancedpwng. Any modification and/or distribution of this page without owner's permission will be reported to a moderator as soon as possible (excludes minor edits from Wiki admins). Thank you for your co-operation :)
Auralia Amythyst Zakynthos

Profile

Age
17
Nickname
Laura, Lia, Amy
Status
Active
Color

Amethyst

Gender
Female

Traits

Race
Faunus
Species
Gyrfalcon
Born
Unknown
Handedness
Ambidextrous
Complexion
Fair
Hair
Sapphire/Amethyst
Eyes
Sky Blue
Height
5'7
Weight
130 lbs

Professional Status

Team
Team AERO
Partner
Reiku Hogosha
Occupation
Singer, Student, Apprentice, mentor, multi-instrumentalist

Additional Info

Likes
Singing, making music, playing video games, relaxing
Dislikes
Buzzkills, negative memory/emotional triggers, losing frequently
Special Skills
Excellent archery skills, very quick, agile, quick thinker/decision maker, fast attack rate
Weaknesses
Emotionally unstable, a little clumsy, doesn't hit very hard

Character Theme




My Curse

Battle Theme




The Enemy Inside
NOTE: This OC is WIP (Work In Progress). This character is in its early stage in development and is not to be reviewed.
Description Summary
WIP
Additional Info
Pronounciation: Uhh-RELL-ee-ah AM-ehh-thist Zack-IN-tho-ss
Aura Colour: Amethyst
Combat Discipline: Divas Virtus, Ryūtai Sentō , Various
Semblance: Unknown...
Appearance
Amy, like her partner, Reiku, usually dresses in a casual fasion - as long she looks clean and tidy, Amy could care less (except in formal occasions, of course). She prefers to wear a simple hoodie with ciel-azure cord locks with white caps while the rest of the hoodie is in a sky-blue colour - the same shade of blue that matches her eyes. A plain white skirt that ends at her mid-thigh is complimented by knee socks of the same colour.
She prefers to be comfortable when walking and doesn't like to have her ability to run hampered by high heels, so she goes with simple black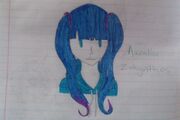 shoes with a white sole and matching shoelaces.
Amy's hair is the only part of her appearance that she pays more attention to, as she dislikes having it unkempt and messy. This is evident by her decievingly simple yet complex hairstyle. Her bangs are swept partly to the right, along with twin, short yet straight ponytails that run down the front of either of her shoulders, held together with feather hairbands. While the first half of her locks flows straight down Amy's back, the bottom half tumbles down in loose waves that end at several inches above her waistline. Although she is naturally blond, Amy prefers to dye her hair in a sky-blue colour with streaks at the ends in an amethyst-like hue. Well obfuscated beneath her azure tresses lies her hidden Faunus trait - pure white feathers. Small yet barely noticeable, to the unfocused eye one cannot see them. But if one were to examine very, very closely, you would be able to catch a minuscule sliver of white sticking out from an ocean of blue; according to her mother her hairbands are said to consist of the largest feathers that she could find. To this day, no one except those who are extremely close to her has ever caught sight of the plumes.
The only part of her clothing that usually stands out from Amy's usual getup is her blue and black fingerless gloves, which adds a hint of agressiveness to her look.
Her trademark is a pair of prescription hipster glasses, which further compliments her already easygoing appearance.
Overall, Amy's casual fashion style mixed in with a dash of fighter-like flare does an excellent job at reflecting her personality and combat technique.
Personality
Amy, at first glance, seems like the person who would be labeled as shy, frail, and quiet. And they're right. Well, partially. Her shyness isn't very prominent, as she can quickly warm up to certain people. But she does remain silent towards those who aren't compatible. "Fragile" is usually the incorrect term to describe her sense of gentleness and caring towards others. However, this trait is usually applied to her friends only due to her somewhat shy characteristic, though she may leave out some exceptions. Oherwise, she'd just feel terrible towards the poor soul in question.
When around her companions, she does get a little more outgoing and adventurous, however. Amy can be a little competitive and defensive, and there are times where she'd gloat about her achievements for a tiny bit. She also becomes more playful and energetic, radiating a soft aura of positive energy from her. Amy is rather easygoing and calm for the most part, not usually fazed by the world around her.
During combat, Amy becomes quite serious about the task at hand. Unlike her partner, Reiku, she can control her impulses while fighting, and can formulate strategies and creative tactics in between and during skirmishes.
Overall, Amy is a person who acts the way she dresses: casual, caring, playful, yet serious when under pressure.
Backstory
Main article: Unstable Sparks (MATURE)
WIP
Weapons
WIP
Primary Weapon Type:
Gemini Tactical Combat Bowsword
Primary Weapon Name:
Elpida Gemini (Gemini Alpha + Gemini Omega)
Primary Weapon Description:
This particular weapon is a bowsword that, in its Blade form, can split into two seperate swords. Simple as that.
Primary Weapon Description (Blade Form):
The custom-designed longswords were built with maximizing attack rate in mind. The carbonerotanium (carbon + titanuim + neronium [fictional material]) blades are sturdy and razor-sharp, yet light as a feather. These have been precisioned tuned so that with each swing, the swords will possess the lowest drag coefficient as possible. To top it off, the weapons have been decorated with complex sky-blue designs and aggressive black accents placed meticulously throughout.
Primary Weapon Description (Bow Form):
...
Secondary Weapon Type:
Carbontaneronuim Lightweight Combat Shield
Secondary Weapon Name:
Aegis
Equipment:
High Density Propulsion Explosives
Equipment Description:
Simple, spherical, non-fragmentation grenades. The fuses on the grenades are adjustable for it to explode after a desired amount of time (Amy's preference is two seconds). However, the explosives were only designed to propel a user by shielding the blast with one's own Aura, meaning that their use in direct combat is somewhat feasible but questionable.
Abilities/Combat Style
WIP 
Auralia Amythyst Zakynthos's Stats :
| | | |
| --- | --- | --- |
| Weapon Attack | | 8.0/10 |
| Defense | | 7.7/10 |
| Health | | 9.5/10 |
| Armor | | 1.1/10 |
| Dust Attack | | 6.4/10 |
| Aura | | 10.0/10 |
| Precision | | 9.1/10 |
| Critical Rate | | 3.4/10 |
| Movement Speed | | 8.2/10 |
| Attack Speed | | 10.0/10 |
| Evasion | | 7.1/10 |
Auralia Amythyst Zakynthos (Unstable)'s Stats :
| | | |
| --- | --- | --- |
| Weapon Attack | | 10.0/10 |
| Defense | | 10.0/10 |
| Health | | 10.0/10 |
| Armor | | 1.1/10 |
| Dust Attack | | 10.0/10 |
| Aura | | 10.0/10 |
| Precision | | 10.0/10 |
| Critical Rate | | 10.0/10 |
| Movement Speed | | 10.0/10 |
| Attack Speed | | 10.0/10 |
| Evasion | | 10.0/10 |
Special Traits
WIP
Amy suffers from a rare inherited variant of Borderline Personality Disorder (BPD), believed to be caused by a complex genetic fault during the early stages of fetal development. This version of the illness is more stable than the standard variant, meaning that a "trigger" is less likely to happen. However, when it does occur, the host experiences extreme, uncontrollable displays of his/her current emotions; the most prevalent being melancholy and vexation in Amy's case.
These occurences, especially when it comes to anger and frustration, tend to be highly dangerous due to the lack of self-consciousness present in the person's mind, driving the victim into a temporary state of pure insanity. The extent to how dangerous this is, however...is simply described by the word, from one witness of the aftermath, "immeasurable"...
Since the incident, Amy has learned to control and manage her feelings with the help of her peers, reducing the likelihood of her entering a state of emotional instability. This, however, does not act as a fool-proof preventtion measure, unfortunately...
Credits/Trivia
She is based off of Serah Farron from Final Fantasy and Pyrrha Alexandra from the Soulcalibur series.
Her inner turbulence is her emotions...
Author's Note(s)
Please note that Amy's primary weapon has been established BEFORE RWBY Episode 7 Season 2.
Ad blocker interference detected!
Wikia is a free-to-use site that makes money from advertising. We have a modified experience for viewers using ad blockers

Wikia is not accessible if you've made further modifications. Remove the custom ad blocker rule(s) and the page will load as expected.