Fan Fiction:
Introduction to Monster Hunting
Author
DragonBossGala
Perspective
Third Person Limted
Narrator
Jr,Verdantos, Ikar, Nox
Official Characters
Jr. Azulon
Fan-made Characters
Jr. Azulon, Verdantos Grenice,Rolan Gaira, more.
Description: A tale of a simple orphan from Vale, who is accepted into one of the most prestigious academies available.
---
Introduction to Monster Hunting

POV OC's
Signal Saga
Arc One
Messer Danam
Rolan Gaira
Arc Two
Cassie Levina
Jr
Rolan Gaira
Messer Danam
Grenice Dust Corp Saga
Arc One
Jr
Rojor
Gears
Beacon Saga
Arc One
Nox
Tianee
Jr
Messer
Arc Two
Verdantos
Gears
Nox
Ira
Arc Three
Yin
Jr
Messer
Nox
Talic
Non-POV OC's
(More to come, hopefully.)
Locations
Signal
The Vale.
Beacon.
Story Sagas
This is the arc that introduces what will be the 4 main protagonists. It will have a tournament arc.
Grenice Dust Corp Saga
This is where I stretch out my crime thriller skills, when Jr takes a look into the off the paper practices of the Grenice Dust Corp. Just one Arc, I will try to keep this one short
Mercenary Takeover Saga
This is the big one, and will probably end the series, will have at least 3 arcs.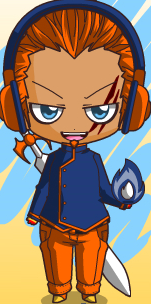 Ad blocker interference detected!
Wikia is a free-to-use site that makes money from advertising. We have a modified experience for viewers using ad blockers

Wikia is not accessible if you've made further modifications. Remove the custom ad blocker rule(s) and the page will load as expected.