Lucas Mrath a character created by Rektys and the leading role of my Fanfiction "The Hunt"
Profile
Name: Lucas Mrath
Alias: Seeker
Nicknames: "Luke" "Spikey"
Age: 23
Gender: Male
Height: 6'2"
Weight: 170 lbs
Hair Color: Blonde
Eye Color: Blue
Overview
Lucas Mrath left Beacon months before graduation something that surprised many of his comrades at the time.  He now lives in a small apartment in Vale's residential district.  He say's his a mercenary but his actually more like a jack-of-all-trades, willing to work most jobs, from simple chores to high risk jobs like bounty hunting.  Since he left from Beacon he went straight into work and soon got the nickname "Seeker", he got the name from prievous employers who pointed out he has a talent for finding lost things and jokingly finding trouble.  From then on he used it as an alias and was offered more jobs that required he's talent.  
In the fanfiction "The Hunt" Lucas is hired by Mr Grant whose daughter was abducted over a year ago.  With the investigation gone stale Mr Grant turns to the "Seeker" to find his daughter Emily.  
Weapon & Abilities
Lucas's weapon is called the Quartz Marker.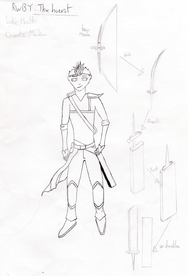 It's a bow that can shoot a variation of dust tipped arrows, combinations of arrows can lead to explosive results.  The Quartz Marker can so turn into a sword with the extension of the sheath.  The bow is collapsible and folds in on inself, the folded bow is then inserted into the sword sheath, with a click, twist and another click the sword can be drawn from the sheath with the bow incased inside the blade.   
Besides his marksmanship and swordsmanship Lucas has very keen eyes.  Able to see details many would miss.  His eyesight is considered his greatest talent.  
Ad blocker interference detected!
Wikia is a free-to-use site that makes money from advertising. We have a modified experience for viewers using ad blockers

Wikia is not accessible if you've made further modifications. Remove the custom ad blocker rule(s) and the page will load as expected.