This location is property of the Intellectual Rapist. Usage without permission will result in death by Red Truth and Blue Truth.
Any clarifications can be posted in the comment section.

Minerva, also referred to as the Lost City of the North is an ancient city located in Mantle, dating all the way back to the Grimm war. It's most known for being the origin of Five-to-One. At the moment, Aki Tokuhana is excavating the remnants of the former city.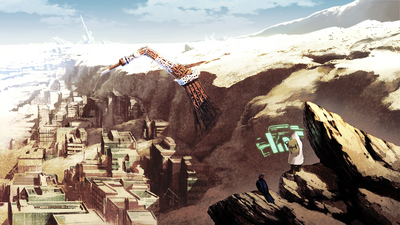 History
Located in the northern reaches of Mantle, Minerva was a bit ahead of it's time, specializing in modern day (by Earth standards) technology. Speculations say that Atlas shared many traditions with them.
At some point during the Great War, they decided to remain neutral with regards to who they will side on. When it began to reach into their territory, they've made preparations to go underground to escape the chaos that's gonna ensue.
Shortly when they went underground, all of Remnant has never heard from them again.
The few that left before the citizens of Minerva went underground didn't speak about what happened either. It's through them that Five-to-One wasn't lost in history.
Culture
Based on the excavated ruins of the city, Minerva had modern day buildings similar to what Vale and Atlas would use. Their buildings seemed tall and imposing but due to the ravages of time, has fallen. Literally.
From what was known, Minerva was a democratic city, and even had a few Faunus living in a region of the city, dubbed "Zoo", based on a street sign of the same name.
Grimm Inhabitants
Despite being ancient ruins, powerful and clever Grimm roam the streets, ranging from packs of Alpha Beowolves, Ursa Majors, Boarbatusks, King Taijitus, Deathstalkers, Byakkos, Mad Rippers and Narasimhas. There are much more, but it was deemed too dangerous to explore further without help from Huntsmen.
The Grimm in Minerva are far more tougher and coordinated than their Vytal counterparts due to the harsh environments. Their lack of exposure to humans also helped them reach adulthood without fail.
Of note is how aggressive the normally territorial Narasimha are. Regardless if you invade their territory or not, they will attack on sight.
Excavation by Aki Tokuhana
At the moment, progress has been slow in Minerva, due to the powerful Grimm presence in the city. Even with Melira's funding, the expedition proves to be difficult with high-end equipment without the aid of skilled Hunters.
Aerial exploration was deemed near-impossible, due to the Nevermores circling the skies of the city.
Trivia
Minerva refers to the Roman Goddess of wisdom. Fittingly, the city is rather advanced for it's time.
Minerva takes inspiration from two locations in Final Fantasy VII: the Forgotten Capital and the North Crater.
Ad blocker interference detected!
Wikia is a free-to-use site that makes money from advertising. We have a modified experience for viewers using ad blockers

Wikia is not accessible if you've made further modifications. Remove the custom ad blocker rule(s) and the page will load as expected.