Perish

Statistics

Owner
Previous Owner
Weapon Derivation

Pneumatic Sniper Rifle Halberd
Notice
This page was made by BRTE500. I'd appreciate it if you didn't take or change anything here.
Registration:
Melee:
[X] Slashing
[X] Piercing
[X] Bludgeoning
[ ] Other: (Describe)
Ranged:
[ ] Dust (Mechanized use only)
[ ] Bullets: (List Calibre)
[X] Other: (Varying air propelled rounds, some are canisters with a variety of Dust payloads)
[ ] None
[ ] Gunpowder
[ ] Tension (Bow, Slingshot, Etc)
[ ] Thrown
[ ] Casting:
[X] Other: (Pneumatic pressure)
Dust type:
[X] Red - Fire
[X] Orange - ???
[X] Yellow - ???/Thunder
[X] Green - ???
[X] Blue - ???/Water
[X] Cyan - Ice
[X] White - ???/Impact
[X] Cut
[ ] Uncut
Description:
Perish is what Citrine Motacill uses in combat. A Pneumatic Sniper Rifle Halberd (PSRH) of unknown make, the two meter long weapon providing two forms for the user; a Pneumatic Sniper Rifle and a Halberd.
Pneumatic Sniper Rifle
As a sniper, Perish fires a unique variety of rounds from ordinary solid rounds to canisters with Dust payloads. Three pressure settings give a range of damage output, a standard setting, double pressure and quadruple pressure release settings. The lower pressure shots give Citrine a higher rate of fire as well as putting less strain on the compressor to refill the gas canister. Only two of these setting are used in combat, as the quadruple setting release may cause damage to one of the systems. The recoil produced from these shots can be used to move a lighter operator about with some assistance but unless a braced position is used, any shots fired will lack accuracy and this recoil is largely unused.
Halberd
As a halberd, Perish opens up another option for use. Several valves situated behind the blade can be opened up to give any swing a dramatic speed boost. The head of the halberd serves several offensive options, the sharp edge cutting skin or bone in most cases, and the weight making it easier to bury in a target or to make a blunt edge of Perish hit with some force. This is where the recoil from the sniper can be used. The blunt top edge could be used to stun an opponent. In addition these recoils can give the user some interesting combat manoeuvres, the muzzle break also gives somewhere for feet during these.
History
Perish is unknown to anyone that has seen it. Citrine has told that she did not have it made, and freely gives any information about it when asked. But when it comes to who made it and how, she just shrugs, saying it was a gift from a friend. In actual fact, Perish was owned by Viininpunainen Myrskypilvi . It was his weapon for over twenty years. Made by his mother, Perish has survived countless battles. It was passed on to Citrine when she began learning Arme D'hast from Viini. She has had it since.
A Most Beautiful and Amazing Gallery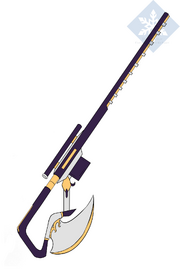 Ad blocker interference detected!
Wikia is a free-to-use site that makes money from advertising. We have a modified experience for viewers using ad blockers

Wikia is not accessible if you've made further modifications. Remove the custom ad blocker rule(s) and the page will load as expected.