New? Click
here
for a guide to the Wiki.
---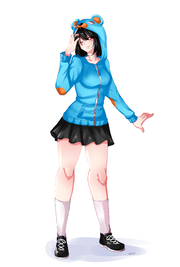 Zhu-li Castellan is Delta-06's Original Character.
Main article: Zhu-li Castellan

7,858 Grimms and counting!



Wiki Rules - Chat Rules - RP Rules - Guidelines
Official Categories
Type in the name of your Original Character or Fan Fiction and press Create Article to make a new page!
 

Which to Date has Been You Favorite Volume.

 
Create blog post
Latest Posts
I've been looking for a good fanfic centering around a faunus. Faunus OC, AU, Ruby as a Faunus, you name it.

Read more >

Okay so yeah. Its been a very long time since; I last made a blog here on the wiki. An while some were fairly talktive and others not so much.

I'm just here to inform those; I'm currently Rping with t…

Read more >

Hey, I am new for about a month ago and I have recently heard of the RP (Role Play). I don't understand what it is even after trying to do some research, can someone explain what it is to me please?

Read more >
See more >
Ad blocker interference detected!
Wikia is a free-to-use site that makes money from advertising. We have a modified experience for viewers using ad blockers

Wikia is not accessible if you've made further modifications. Remove the custom ad blocker rule(s) and the page will load as expected.