New? Click
here
for a guide to the Wiki.
---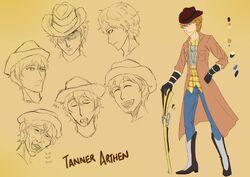 Tanner Arthen is Sebi99cl's Original Character.
Main article: Tanner Arthen

7,548 Grimms and counting!



Wiki Rules - Chat Rules - RP Rules - Guidelines
Official Categories
Type in the name of your Original Character or Fan Fiction and press Create Article to make a new page!
 

Which to Date has Been You Favorite Volume.

 
Create blog post
Latest Posts
Hey guys, just wanted to tell you all there's only 1 month left to commission me at these lower prices; later their prices will be raised a bit, so catch them while you can!
Remember that I'm open to …


Read more >

The name says it all. I plan to make a AU where our OCs are in the Clone Wars.




The plan for the RP is, Our OCs are Jedi Knights investiagating a planet in the Outer Rimm, Vossm where seperatists have …

Read more >

What's up, fanon? It's me, and I got yet another question. With my OC Darian Vuarison reviewed and fixed for the most part (*cough, cough* Still waiting for that certain admin to put my OC back on Pe…

Read more >
See more >
Ad blocker interference detected!
Wikia is a free-to-use site that makes money from advertising. We have a modified experience for viewers using ad blockers

Wikia is not accessible if you've made further modifications. Remove the custom ad blocker rule(s) and the page will load as expected.