Suzushii Tama

Profile

Age
17
Title
Minimi
Nickname
Suzu
Status
Active
Color

Purple

Gender
Female

Traits

Race
Japanese
Species
Human
Handedness
Right Handed
Complexion
Fair
Hair
Pink
Eyes
Green
Height
5'0"
Weight
45 kg

Professional Status

Affiliation
Beacon
Team
WIP
Partner
WIP
Occupation
Hug Pillow

Additional Info

Likes
Sweets, Cute things, Hugs, Piggybacks, Bombs
Dislikes
Lectures, Anything boring.
Special Skills
Medium Ranged Combat, High Agility
Weaknesses
Easily Knocked Back, No Long Ranged Ability
This character is created by Kimiyosis. Picture belongs to Reiji Kaitō and illustrated by Ruroo.
Appearance
Personality
Extremely cheerful and bubbly, and enjoys being hugged by anyone. Whenever possible, she will attempt to climb on someone's back, or just sit down on their laps. Her cheerful and happy attitude to everything does raise eyebrows at times, especially during combat. Even when she is putting round after round into a Grimm, she will constantly talk about random topics, some not even related to the current situation. However, when it comes to classes, her happy-go-lucky mood dims down, as she looks at the homework in a depressing manner.
Backstory
((WIP))
Relationships
Ability
Combat:
During combat, Suzu utilizes her light weight to run circles around the target, firing rounds after rounds from her backpack.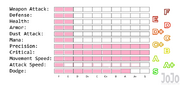 However, her light weight has a drawback. Compared to a normal size person, when they are hit hard, they just double over in pain. If Suzu gets hit hard enough, she literally flies back into the nearest obstacle.
Non-Combat: Outside of combat, her ability would be "children's curiosity". She may ask or point out some small detail that everyone looked over, but is actually a really important detail.
Weapon
Name: Yamada Danmaku
Classification: Underestimated School Backpack(USB)
Location: Carried on Suzu's back.
Trivia
-Suzushii Tama translates to Innocent Bullet
-The color is actually pink, because the term Innocent, can be used as 'Nadeshiko', which is pink.
-Appearance belongs to the respective light novel and anime.